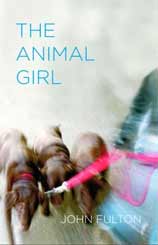 John Fulton's newest book The Animal Girl is a beautiful and compassionate collection that feels interwoven, though none of the five stories actually intersect. The pieces composing this collection are thematically entwined through their collective examination of loss and the ensuing fallout for those afflicted. Each is a study of how loss and grief require us to act, with the central questions often being: What is the appropriate way to grieve? and, How do we find our way back? In "Real Grief," the narrator recounts the tragic death of Holly Morris' grandmother and Holly's response to the death that she witnesses. The narrator—a teenager like Holly—decides after watching the adults that he must bow his head and solemnly say a few words to himself about the dead woman. This, he concludes, "was how to grieve and help my neighbors grieve their loss." Holly, however, refuses or is unable to perform these "appropriate actions." Instead she is out of control, doing her best to interrupt the funeral by throwing olives and teasing the children, refusing to back down even when her mother attempts to punish her. Yet, by the end of the story, we too question the sincerity of the narrator's actions and, through him, the adults' actions as well. We ask ourselves, Whose grief is real?
John Fulton's newest book is a beautiful and compassionate collection . . . The pieces are thematically entwined through their collective examination of loss and the ensuing fallout for those afflicted. 
Three of the stories are also tied together by their exploration of the wife and mother as the cohesive center of the family unit. These three stories are concerned with what happens to the remaining members of the family when that center is stripped away. Each of these stories is like a continuation of the others, as we get first the perspective of a sick woman (in "Hunters"), then the daughter (in "The Animal Girl"), and finally the point-of-view of the "new woman," or the one who would like to become the new center for her chosen family (in "The Sleeping Woman"). These three stories force us to conclude that no one, however seemingly on the periphery of a family dealing with loss, is unaffected.

In the title novella "The Animal Girl," the main character Leah is trying—rather unsuccessfully—to deal with the death of her mother and the fact that her father, once a known entity, is moving on and changing by re-dating and relearning to be happy. Leah is "seventeen, [i]s friendless, ha[s] no direction, no interests, [i]s homebound out of choice and very much in the way of her father [Franklin] and his new girlfriend, Noelle," and so—not altogether altruistically—Franklin pulls some strings to employ his unhappy, often unpleasant daughter at the university's biomedical laboratory. There, Leah is charged with feeding and cleaning the sheep and dogs killed in research experiments.

The animals that Leah watches over embody her own actions. The sheep "hardly made eye contact and remained in their animal world, a stinky dark void without language, without sensations beyond fear and hunger. But the dogs invaded the human realm, leapt over and into Leah's world readily and with the assumption that they belonged there." In her best moments Leah is like the dogs: willing to fight for existence, eager for the comfort of human contact. Leah desires to partake in the life around her, especially in her father's love, but her grief—stemming from the loss of her mother and life the three shared together—darkens her sight, confines her to her own "animal world" where she is without the capacity to communicate her needs and feels compelled to act out spitefully towards anyone who cares for her. Leah yearns to be caught, to be chastised, so she'll have palpable evidence that her mother and her family as she knew it is gone, that life is not as it was.

Fulton's older characters know that their strength lies in their ability to forge ahead with their relationships, regardless of the sometimes damage to their pride.
Desire and the inability to express that desire is another overarching theme of the collection. In "A Small Matter," Martin and his wife Nancy are successful ex-pats living in Switzerland. Martin congratulates himself on his burgeoning ability to speak German and thinks, "Situations hardly arose in which he could not express his wants and needs." Yet he is unable to either express his physical desire for Nancy nor to protect her from a threatening Italian stranger that sits in their compartment on the train. Instead he finds himself reaching out towards Nancy only in her sleep—where he is still rebuffed—and apologizing to the Italian, though, "[h]e had not meant to be polite or express real regret." The characters in The Animal Girl are often unable to communicate as effectively as they would like, but always say just what Fulton wants them to. His dialogue is scintillating: exact, taut, and always revealing.

The Animal Girl is not as rambunctious as Fulton's earlier collection Retribution—which may in part be due to the fact that his new stories focus predominantly on people in their middle age rather than the teenagers on the cusp of adulthood that were the driving force of his earlier book. In Retribution the characters were often facing "firsts"—their first sexual experience, their first relationship, the first death of a loved one—while the characters in The Animal Girl are often trying to relearn dating and sex with more tenderness and less frenzy than their teenaged counterparts. Their struggles, though often uncomfortably awkward, are tempered by—if not exactly patience—then by a fortitude and persistence that comes only with age and experience. Kate the protagonist in "Hunters" exemplifies this when she begins dating again after learning that her cancer has returned. She "tried the very act [oral sex] she'd seen her daughter perform only weeks before, but she was indelicate and Charles let out a whelp of pain and then began to laugh." Fulton's older characters know that their strength lies in their ability to forge ahead with their relationships, regardless of the sometimes damage to their pride.
Fulton concludes his collection not with the taste of loss and ashes but with an image of hope.
Fulton concludes his collection not with the taste of loss and ashes but with an image of hope. In "The Sleeping Woman," Evelyn is dating Russell, a paranoid almost-widower who at the beginning of the story will only walk and refuses to drive or even ride a bike. However, by the end of the novella, Russell is almost confident in his newly-found bike riding abilities: "When she [Evelyn] pulled alongside Russell, he lifted a hand with surprising calm from the handlebars and pointed at something out on the river that he wanted her to see." Russell is pointing out to Evelyn what Fulton would point out to us: an image of the future that, however ambiguous or potentially menacing, should be welcomed as a chance to re-embrace life, physically and emotionally