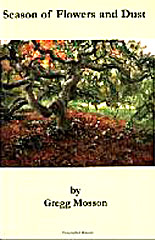 Known mostly (to me, anyway) for his anthologies of anti-war poems and a concern with social issues in general, Gregg Mosson shows us another side in Season of Flowers and Dust, a collection of nature poetry that focuses on the Pacific Northwest from autumn through winter and into spring.
Reflective in tone, these poems reveal a sharp eye and a quick imagination. ("Army-green sprouts of grass/bask/in the blast/of thick yellow noon sun," the first poem begins, a veritable trumpet call.) The collection is divided into three seasonal sequences, from autumn and its flair of dying color, brilliant but fading flowers, the harvest, rain, wind and a sense of eternal longing -- through a sequence of nine lyrical winter sonnets, meditations on storms, snow, darkness -- and into spring with its re-assertion of light and color and the hopefulness these signify. Indeed, the collection might be thought of as "season of death and rebirth" or "season of darkness and light." Indeed, the penultimate poem of the first section begins, "Thirteen days of rain,/we could pull sunlight from ourselves/ only for so long." Such an evocative way to describe the dimming of hopefulness in increasing darkness.
If autumn is a season that spirals down into darkness and longing, however, it is also, as Keats notes in his famous ode, a "Season of mists and mellow fruitfulness," and Mosson certainly notes the fecundity and lush vibrance of autumn in poems such as "Harvest of Orange" and "Sunday at the Lutz." But through "November falling" and "Rainy Season" the trend is inevitable, bountiful as the season is, and the section ends with a Pound-like image of suspended life in "December Ice":
Frost-webbed grass:
a thousand handfuls of starfish.

The "Winter" poems, all non-traditional forms of the sonnet (i.e., they don't follow the prescribed rhyme schemes), begin with this image of stasis in "Winter Still Life" and gradually proceed through "Hidden Sun" and "Burial of Snow Storms" through "Transformation at Night" and "February Melting" to "Rainfall..." and "The Larger world."
But through "November falling" and "Rainy Season" the trend is inevitable, bountiful as the season is, and the section ends with a Pound-like image of suspended life
The poems in the "Spring" section bring with them a sense of increasing confidence and color. "Reflections at Sunrise" give way to the startling image of dawn that begins "Descent into Light," a longish poem about two men wandering around a neighborhood in Portland, Oregon:
Twin rows of flowering Cherries pink-light
the riverbank: a laughing sunrise
beneath the mechanization of night.

"Western Orange Sunset" continues this theme of brilliance and light, and the poem ends in the quiet triumphance of "Twilight in Late May."
Mosson's verse is characterized by internal rhymes, alliteration, and short lines, sometimes consisting of just a single word. Almost chosen at random and yet singled out for the way it encapsulates Mosson's themes is this image from "Echoes on a Waterfront," the penultimate poem of the collection:
Light dusts
past vast, black columns

In his observation and celebration of nature, Mosson also brings to mind Walt Whitman in the very sensuousness with which he describes the natural world. In the opening poem, indeed, he describes the grass as"rollicking down slopes," "hooplaing in bug-mad gutters."
This is a collection of poems that celebrates language as much as nature, and as Grace Cavalieri writes in her back-cover endorsement, "the way the wind sings our language."