Holiday 2014 - BOOK REVIEW by Roman Gladstone
"Exiles and Expatriates"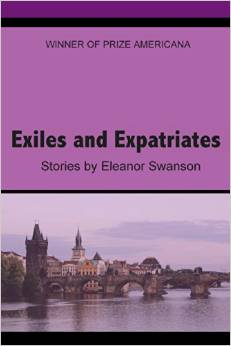 Exiles and Expatriates
by Eleanor Swanson
Fiction
Hollywood Books International, 2014
$ 15.00, 182 pages
ISBN: 978-0982955888
Alienation and adjustment are central themes in the dozen stories that make up Eleanor Swanson's fine new collection, Exiles and Expatriates, just as its title implies. Often, characters are coping with the death of a son, a sister, a fiancé, or even just a person they knew casually at work. How the characters come to terms with their loss is the source of the tension in these stories; often there does not seem to be a resolution, just further exile and continued sorrow.

In "Solitary," the protagonist Beth has come home to her parents in Florida from where she lives in Colorado, to tell her family that her marriage has fallen apart. Ever since her brother Jess's death in a traffic accident she has not been the same and this has taken a toll on her marriage — her husband has gone off with another woman. When Beth goes to visit Noah, Jess's best friend, who is likewise shattered by his death, she breaks down crying, but while this may be cathartic, it doesn't seem to solve anything. Indeed, when her husband tried to make her forget the tragedy, Beth thought: "But he'd never understood that she wanted to remember everything."

Similarly, Katrina, the girlfriend of Pavel, the protagonist of "The Singing Mistress at the Window," which takes place in Prague, has just broken up with him — probably because he is such a depressive. Libby, an American who is in Prague researching a book on Kafka, sees the same haunted look as Kafka's in Pavel's face. As it turns out, Pavel's sister Martina threw herself in front of a train, and his mother, the singing mistress in the title, went mad with grief.

But just as Pavel opens his heart to Libby at the end of the story, she says goodbye. She returns to America to write her book, and Pavel is left even more isolated than before.
There are no simple answers to grief and loss in Swanson's stories. In "Iron," the parents of a troubled teenager are still groping for answers to their son's behavior at the end. At the conclusion of "Trout," a story involving brothers almost as estranged as Cain and Abel, Jacob and Esau, the unnamed narrator (she is only identified as "sweets" and "ladybug" by her husband, "partner" by her brother-in-law), observes, "I wanted to tell Seth I'd stay with him forever, but I couldn't. I just couldn't." Seth's brother Beau's girlfriend has recently left him; the narrator has recently had a miscarriage. Another punch in the gut!

In dreams there seems to be an urgent grasping toward an evanescent sense of resolution. The book's epigraph, from Aeschylus' Agamemnon, is telling: "I know how men in exile feed on dreams of hope." Indeed, in "Trout," the narrator dreams about the trout that she and her brother-in-law killed (against her husband Seth's wishes), their red, roe-filled bodies. In the dream, she puts them back together again and releases them in the stream. In the title story, Marta, the little girl who gets lost and many fear has drowned (they even drag the lake), is discovered to have spent the night with the bones of a little boy in a church, and she has had an almost "living dream" of having played with the little boy, restored him to a sense of happiness.

"Stray Dogs" is like another "living dream" in which the protagonist, Kate, in Galway, seems to recover her former fiancé Michael, who has drowned before the story begins (indeed, Kate is married to Michael's best friend Nick). She seems to recover him in his doppelganger, Jamie, a singer in a band called "Stray Dogs," whom she met in Denver.
And then there is the last story, "The Dream Closet," a parable about wish-fulfillment if there ever was one. The story involves magicians, the narrator Ruth's husband Stefan's search for his estranged father, and an enigmatic character named Martin who has accidentally killed somebody and would like nothing more than to turn back time, erase the tragedy. Do these things ever happen, outside of dreams?

Swanson writes about exile in terms of language, the things it withholds, the gifts it bestows. This is particularly true in the handful of stories that take place in the Czech Republic. There's the frustration and embarrassment of the expatriate who is not able to express him or herself, but more to the point Swanson examines language as a means, for good or bad, of connecting us to the world, so that we are not in exile.

In the title story, Marek, the quintessential exile/expatriate ("Daddy's a nomad," Laura tells their daughter. "Aren't you?"), even in his native country, to which he has returned after many years living elsewhere ("...he'd stayed the better part of a lifetime, always a man in exile for one reason or another, isolated, sparring with the world."), requires language to give himself a sense of belonging. ("When he can't think of the English word for something, he becomes quite frustrated, as if the idea or object he can't translate is caught somewhere – in the purgatory of things-without-names.")

But Tess, the narrator of the "Exiles and Expatriates," feels smothered by language, even as she experiences the frustrations of not being able to communicate with the locals. ("We have to give a name to everything, or it doesn't exist — feelings, syndromes, all of our dysfunctions. The noise of words is everywhere.") Tess, in fact, luxuriates in the made-up nonsense words of Lewis Carroll (or, as she quotes Humpty-Dumpty, "They mean whatever I want them to mean."), as if it is precisely there that the freedom of her own exile lies.

In "The Singing Mistress at the Window" and elsewhere, characters hide behind their unfamiliarity with other languages. Pavel pretends not to understand Libby's English in order not to have to deal with her, for instance — Pavel, the epitome of alienation. Language, thus, is at the very heart of exile.

The stories in Exiles and Expatriates are both entertaining and thought-provoking. Swanson's collection is worth checking out.

Print or Mail This Page

The Potomac Supports