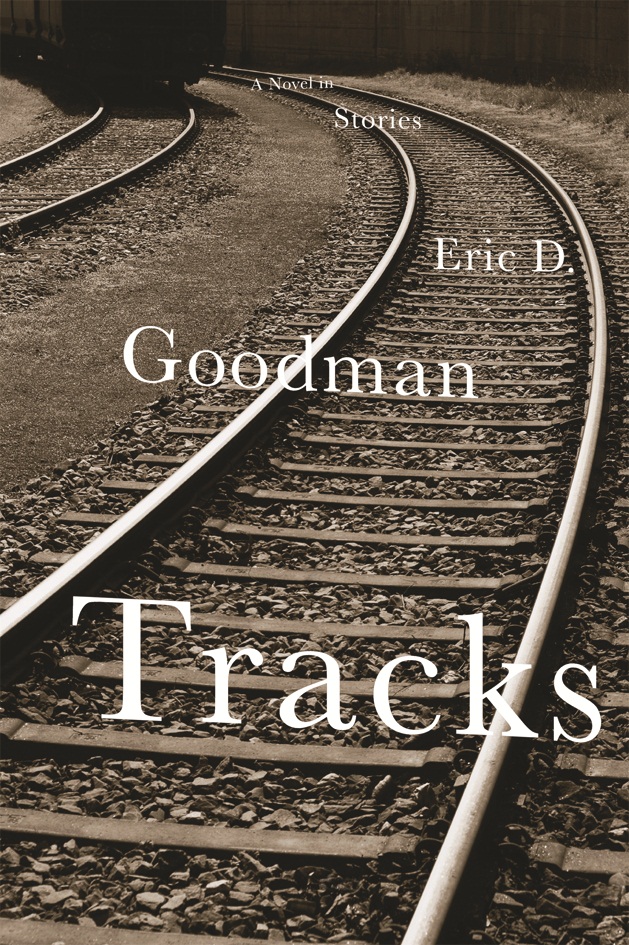 Tracks!
by Eric Goodman
Fiction
Atticus Books, LLC, 2011
$ 15.95
ISBN: 978-0-9845105-7-3
Eric Goodman's Tracks, a "novel in stories," seventeen of them that take place on an overnight train ride from Baltimore to Chicago, is a real tour de force. A parade of colorful characters reappear throughout, narratives overlap; there's even a bit of suspense. Whether Tracks is a "novel" in the sense of a narrative with an arc may be up for debate, but it's definitely an entertaining, engaging read.
The conceit of the overnight train ride from Baltimore to Chicago provides a sense of continuity, especially with characters appearing incidentally in stories whose protagonists are other passengers, and a sub–plot involving a computer–nerd–cum–organized–criminal and a hit man assigned to kill him spans the whole collection, but Tracks feels more like a collection of stories than a sustained narrative with a beginning, middle and end. That's not a bad thing, and "a novel in stories" is not a misleading label, but some stories are less satisfying than others. "Mountain of Sand," for instance, is the story of a poet, Colin White, whose Ziggy Stardust-like rise and fall strikes a false note, especially given that the samples of his poetry are not so remarkable.
A parade of colorful characters reappear throughout, narratives overlap
But other stories are more compelling. "Reunion" tells the story of a young woman, a Baltimore native, returning from her new home in Cincinnati to bury her parents and having a brief fling with an old friend of her brother's. "Live Cargo" is the story of a Holocaust survivor, Helen, to whom trains bring back memories of the cattle cars transporting Jews to concentration camps. "Idle Chatter" is the story of Franklin, the conductor, his life when he's not on the train—which is his life, after all. Indeed, the spectral figure of the conductor is another unifying feature of Trains. If ever a role was made for Morgan Freeman, Franklin's is it, the gentle, amiable conductor always looking out for his passengers. Goodman brings Baltimore to life in story after story as well.
Goodman writes in a witty, confidential style, letting the reader in on "the straight skinny" behind the lives of his characters in a sort of behind–the–hand conspiratorial voice that's cozy and entertaining. Because each story focuses on a new character, none of them are really developed much beyond a sketch or outline, but they are skillfully drawn, and achieve a life off of the page; all are plausible characters, compelling but without engaging our emotions much beyond superficial judgment. Many of the characters are memorable in their own right—Murdock, the sleazy traveling salesman, Demi, the girl with the elaborate tattoo and loose morals, Christi, leaving Baltimore and her boyfriend for a new life In the Windy City, Fritz and Mary, quintessential Baltimoreans with a collection of tschotskes.
Make no mistake, this is a book whose entertainment value makes it worth reading for anyone, particularly if you're from Baltimore.