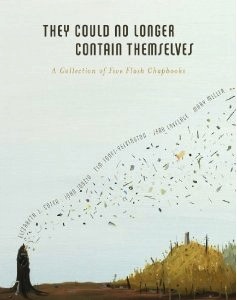 They Could No Longer Contain Themselves
A Collection of Five Flash Chapbooks
Rose Metal Press, 2011
$ 15.95
ISBN: 978-0-9846166-1-9
They Could No Longer Contain Themselves is a collection of five chapbooks —seventy–three flash fiction pieces — in about 240 pages; each story packs a swift punch, some more effective than others. Written by five different authors — John Jodzio, Mary Miller, Elizabeth J. Colen, Tim Jones–Yelvington and Sean Lovelace — these are five distinct voices, or styles, contained between two covers. But as editors Abigail Beckel and Kathleen Rooney note in their excellent Preface, the stories in these five chapbooks are barely contained, bursting out beyond the confines of their plots and truly exemplifying the possibilities of the genre, which often eschews plot and character in favor of experience itself.
The book's title comes from a line in the story "Aesthete," from Mary Miller's collection, Paper and Tassels. The title refers to a boy the narrator, a young girl, suspects is gay, even as he runs his hand up her skirt. Beads of water from a leaky ceiling swell "until they could no longer contain themselves," and we wonder who is reaching that point. The boy? The girl? Both?
Flash fiction often focuses on a moment in time on which everything else hinges — or becomes unhinged. Without being formulaic or restrictive, this broad description may suggest an idea or situation in which events get away and cannot be contained. Take Jodzio's "Octane," one of the stories in the first chapbook (Do Not Touch Me Not Now Not Ever). A woman whose husband has died only six months earlier, whose body she burned in a backyard pyre (her husband's request), comes across a man in warlock garb on his way to a Renaissance Faire and falls under his spell. Told from her point of view, the man is a warlock. In the end, after he discovers she is stalking him and learns that she is off–balance, he "sets her free" with a special ring that the reader senses might just as well have come from a Crackerjack box. But the effect is the same. The narrator could no longer contain herself; her release is a catharsis.
In Elizabeth J. Colen's "Shoulder" (from the marvelously entitled chapbook, Dear Mother Monster, Dear Daughter Mistake), a mother and daughter are on a road trip "through the dirt backside of the South" when the mother, almost in a truth or dare situation, tells her daughter Evie that she had an abortion in her youth, and the world seems to shatter for a moment before they reach a new equilibrium.
"Fuck you," she says. "Fuck you. I want to go home."
"Fuck you, too," I say.
"I don't have to tell you everything."
"What are you talking about?"
"Is that what this is about?"
"Evie, what are you talking about?"
"I don't have to tell you everything," she says. "You should really get your own friends."
The mother's not really such a monster and the daughter isn't a mistake, but both are bursting with their private conflicts, barely containing themselves.
"God, I'm dying in here."
So am I, I want to tell her. So am I.
While there is no sustaining plot that carries us through any of the chapbooks, Tim Jones–Yelvington's Evan's House and the Other Boys Who Live There is the most cohesive, the stories linked by the common references to Evan, but even here it's more a thematic reference to the struggles and obsessions of boyhood, the hard–to–contain angst implied in growing up. "American Kids," for instance, subtitled "Boy Who Is Bristol, and Sometimes Levi" (all of Jones–Yelvington's stories are subtitled), in playing on the real life drama of Sarah Palin's family, highlights the confusion implicit in being a kid — and at the same time is quite funny! "Painted Faces" ("Boy Who Wants to Paint His Face") taps into the fear of the twelve–year old boy who does not want to be thought a sissy. "Grace" ("Boy Who Loves Kevin") focuses on kids coming to terms with love and its various manifestations — gay, straight, spiritual, unrequited, etc.
The most light–hearted chapbook, the one with the most laughs, anchors the collection, Sean Lovelace's How Some People Like Their Eggs. The story, "Wal–Mart," told from the perspective of a kid cowering in his dorm room while a jealous jock storms outside his door, threatening to beat him up for hitting on his girlfriend exemplifies the off–balance situations that characterize Lovelace's stories. "Light–hearted" may be the wrong word, but the panic is familiar to everybody. "A Sigh Is Just a Sigh" takes off from Casablanca with fantasy riffs on Ingrid Bergman and Humphrey Bogart. By contrast, Mary Miller's collection is probably at the opposite end of the emotional spectrum; it's not necessarily "bleak," but characters are almost always identified only by the personal pronoun ("he" and "she"), which gives them a kind of universalized anonymity, and the love/sex situations are stark and affectless, even desperate, as the characters seek restraint and resolution.
So, in sum, these stories are all over the place in terms of emotional perspective, characters and situations, but like all good flash fiction they jab you with moments of recognition, insight and surprise. They entertain and intrigue.