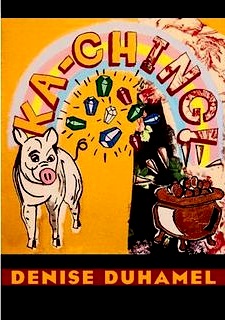 Ka-Ching! is one of those onomatopoeic words whose sound means triumph — ka-ching! — the sound of the cash register, the sound of a slot machine paying out: the sound of a winner. Denise Duhamel's collection is triumphant in a comic, poignant, life-affirming way, a real winner. "Ka-Ching!" also evokes gambling casinos and all that goes with them — risk-taking, morally dubious characters, dark romance, a spirit of carpe diem and most of all, luck, good and bad, blind and pure dumb: the crap shoot that is life. Ka-Ching! is divided into five sections with the titles "Play Money," "Throwing the Dice," "Small Tip, "Big Tip" and "One-armed Bandits": a charming and witty conceit about the wheel of fortune that controls one's life, specifically Duhamel's life.
"Play Money" starts out with ten selections beginning at $100,000 and going up in $100,000 increments to a cool million, reminiscences involving money, getting it and not having it, spending it and losing it, memoirs of being a child, of her parents, her husband, her roommates, the first ATM card, living hand-to-mouth on the Lower East Side, interviewing for — and not getting — a job. "Play Money" concludes with the poem, "Lucky Me," another amusing meditation on the vicissitudes of luck, ambition.
Over the course of the collection, Duhamel also tells the story of her parents' bad fortune. Ka-Ching! is dedicated to her parents; her father had recently passed away when this book was published. In "Play Money's" "$1,000,000," she relates the story of their nearly fatal car accident, the vision of a multi-million dollar settlement that evaporates like a mirage. The nine-poem sequence that makes up the "One-armed Bandit" section all deal with her parents' accident involving an escalator in an Atlantic City casino (a fourteen-people pile-up). The poems are funny and touching with that potent undercurrent of shock and horror. As we read about her mother's hair being ripped out by the escalator's teeth — literally scalped — almost like something you'd read about in an urban legend (the title of one of the section's poems), her father, feverish from a staph infection, floating in and out of lucidity, "everything hurting him," and again the lawyers, the depositions, the lure of a big settlement, we wonder if this is all made up, a story, an urban legend indeed. But as the expression goes, you can't make this stuff up!
The poems are funny and touching with that potent undercurrent of shock and horror.
Though not a formal poet, Duhamel does try her hand at some formal verse, such as her "eBay sonnets" in the "Play Money" section, the villanelle, "Please Don't Sit Like a Frog, Sit Like a Queen," that opens the "Small Tip" section, and "I Dreamed I Wrote This Sestina Wearing My Maidenform Bra." Of course, from the very titles of these you can see what a comic poet she can be. This cannot be stressed too much: Denise Duhamel is funny! "What Women Know," "Perimenopause," "Weapons Inspectors' Checklist," "The Da Vinci Poke": reading any of these will elicit at least a chuckle. "The Da Vinci Poke" is another example of form or type of poem — the riddle. It's very clever.
But Duhamel can also be very serious, and juxtaposed against her humor, the serious moments achieve a kind of solemnity. There's the heartwrenching reflection of her parents' misfortunes, but also, as in "Sipping Café con Leche Where the Bombs Fell" and "Anagram America" there's real anguish implicit in the observations of man's continuing inhumanity to his species.
Ka-Ching! delivers a winning payout indeed.