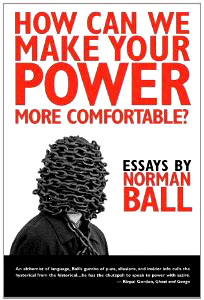 Norman Ball is an Associate Editor here for The Potomac: A Journal of Poetry and Politics. Specifically, he writes about the politics part of the "poetry and politics" in the journal's full title, but he does it with a poetic flair — principally satiric; as Douglas Milton points out in his Foreword, he is reminiscent of Alexander Pope. As political journalists go, Ball is among the best. Think Art Buchwald. Norm can make you roar with laughter while driving home his point in the space of a few pages.
As Milton further points out, Ball "has the best way with a title since Hunter S. Thompson," which gives you a clue that his writing is quick, witty, incisive. How Can We Make Your Power More Comfortable? includes forty-seven essays in just over two hundred pages: they pack their punch right away without belaboring their argument, coating them with words. In addition to the eponymous essay, this volume includes "Quayle Hunting" (a particularly biting take on recent Republican Vice Presidents that starts with Dick Cheney shooting his friend in the face with a shotgun and ends with Dan Quayle's similar spray-shot approach to spelling); "The Stalls of Power: Don't Tap, Don't Tell" (an amusing look at the infamous Senator Larry Craig, caught soliciting sex in an airport bathroom, that manages to allude to Senate homophobia, the Patriot Act, and, of course, in its title alone the recently overturned hypocritical rules about gays in the military); "It's Our Money and We'll Lie if We Want to" — shades of Lesley Gore and Ben Bernanke — and "Absence Makes a Hawk Grow Stronger" — about chickenhawks like Cheney, Bush and Reagan who promote war with chest-beating ferocity but never served in a life-threatening capacity, never saw the horror of war firsthand — to mention but a few (oh, and the deftly titled, "Nothing but Nihilism," can't skip that one!). In his introduction, moreover, Ball informs the reader that these essays are like a diary, representing what has intrigued him in politics "over the last three or four years." With that confession alone we at once get the sense of an endlessly restless mind and our endlessly intriguing nation.
Think Homeland Security; think wiretapping private citizens.
Three or four years can be a lifetime in the world of American politics, but these essays feel as contemporary as yesterday. In "It Takes One Child to Raze a Village," a play on the title one of Hillary Clinton's books, which takes on the controversy of surveillance vs. security, the right to privacy that we hold dear in the American ethos of rugged individualism, we can already hear the echoes of the Giffords assassination attempt in Arizona even while the essay specifically addresses pyromania and arson in our national parks. Think Homeland Security; think wiretapping private citizens.
The essays fall into four sections, "Guffaws" (they all elicit those), "Political Animals," "War Footing" and "Currency of the Realm." Many of these essays have appeared in a number of publications previously. In addition to The Potomac, these include Main Street Rag, Hazmat Literary Review, The Journal of Social Change, Eclectica and The Anthony Burgess Foundation Journal to name a few. Moreover, his poetry has been featured in Garrison Keillor's A Prairie Home Companion. The guy is no slouch!
Ball is not partisan, neither Republican nor Democrat; all are fair game. Identifying himself in one essay only as a "social libertarian" ("One Nation, Under Whose God?"), Ball seems to admire the philosophical insights of Any Rand, but he's no acolyte. He takes aim at hypocrisy, corruption, waste and hubris no matter where he finds it in the public square, with equal irony and cynicism for all. At the same time he conveys what might be called a basic lesson in Civics and human decency.