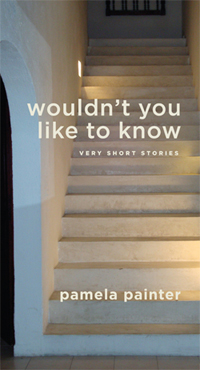 Smaller and lighter than an iPad or Kindle, Pamela Painter's flash fiction collection, Wouldn't You Like To Know, released in August 2010, would seem to be made for modern readers. Each story, at about 1,000 words or less, describes a plethora of interesting characters, from Andrew Wyeth's wife to a college chemistry student, a little league baseball player, and a Salvadoran colonel; and plays with a variety of forms: the letter; the prose poem; the journal; the slice of life; the classic, epiphany-producing short story; the synopsis. Wouldn't You Like to Know has a story to suit almost every reader's taste, making the collection perfect entertainment for multi-tasking, 21st century adults with Attention Deficit Disorder, except for one thing: Painter's prose is so carefully wrought, her language so poetic and packed with psychological insight, that the reader tends to stop and savor each short piece rather than breeze through all 103 pages (34 stories) in one sitting. Instead of a smorgasbord of surface pleasures, Wouldn't You Like To Know is a series of compact, complete meals created with just a few key ingredients.
Flash fiction, short-shorts, or (to quote the sub-heading of this volume) "very short stories," are usually between 250 and 1,500 words. They tend to hinge on a single dramatic moment in the life of one or more characters, a moment that reveals as much about lives lived as pages and pages of action and description in a longer story or novel. This kind of writing relies on precise use of a few telling details to be successful. Most of the pieces in Wouldn't You Like to Know succeed admirably.
Take the story "Artist as Guest in the Hamptons." Painter creates a hilarious portrait of a husband and wife whose names, physical appearance, and exact place of residence in "the Hamptons" are never identified. We are, however, privy to the couple's concern about a sixty-pound gouache and oil on glass painting entitled "Whale and Water"—gift from the dinner guest who created this "masterpiece"—that needs to be removed from the dining room wall. The couple has invited a different artist friend to dinner; his gift needs to be carried up from the basement and installed in the dining room's "place of honor," the spot currently occupied by "Whale and Water." We also find out that moving friends' works of art back and forth to different parts of the house in order to coddle the fragile egos of the artworks' creators causes endless anxiety and even a hernia for the couple. "Artist as Guest in the Hamptons" exposes the friendship between narcissistic artists and their patrons in places like "The Hamptons" as an ultimately lonely, futile game—all in a mere two pages.
Another successful story, "Toasters," is even shorter. Here Painter dons the voice of a woman describing her family's favorite pastime: watching the couple-next-door fight. On the particular evening in which the story takes place, the narrator details her own simple chores, performed while her son gives her a play by play of the various objects that the neighbors are tossing out of their windows. As she chronicles the small events of the evening, the woman also lets slip hints of a looming tragedy in her own family's life. Again, using tremendous economy, Painter creates a complete, tragicomic world.
Painter's writing can be so musical that a few of her stories read like prose poems. "Snap Judgement," a post-coital conversation between two lovers about catching mice, is full of rhyme and alliteration. The story is peppered with phrases like "The traps were those that snap," "He explained the virtue of snap versus poison or glue," "oh, fun. Done," and "Ordinarily after sex he would be thinking of French toast, bacon, or smoked salmon and her soft scrambled eggs." "Snap Judgement" ends with a sound that reverberates with meaning (I won't give the end away here). The story is a snapshot of two characters, a poem and a meditation on animal attraction all rolled into one page of prose.
Perhaps the most daring work in Wouldn't You Like To Know is "The Poet," a story that tweaks the words of Carolyn Forché's prose poem, "The Colonel" to shift its focus. In "The Colonel," Forché exposes the amoral violence of an army commander in an unnamed Latin American country through an accumulation of ordinary and horrible details gathered during the American poet's visit to his house. Painter takes the same details and, in the voice of the colonel, indicts the poet as an opportunist "sniffing around for a poem;" she and her country are part of the same cycle of violence that created him.
A few of the pieces in Wouldn't You Like To Know don't work as well for this reader. "Appetites and Addictions," employs rather obvious puns that do nothing to illuminate the well-worn correlation between sex, eating, and addiction that drives the story. One of the longer pieces in the book, "Ice," is so packed with characters and bits of back story that it begs for a longer format to give the piece greater clarity and emotional depth.
But I'm quibbling here. Painter sets the bar so high that even my least favorite stories offer humor, insight, and beautiful language. She is a master storyteller who has written two previous fiction collections and co-authored What If? Writing Exercises for Fiction Writers. Her first book, Getting To Know The Weather, won the GLCA award for First Fiction. Other awards include three Pushcart Prizes and Agni Review's John Cheever Award for Fiction. Painter's work does evoke Cheever's sadly humorous critiques of middle-class America, exposing the sense of isolation and moral ambiguity behind the workday, leisure and mating rituals of her mostly educated characters. She reads, perhaps, like a super-efficient female Cheever for the Twitter age, a writer who tells us everything we need to know in the fewest possible words. Wouldn't we all like to know how she accomplishes this amazing feat.