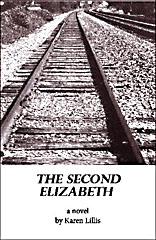 This is a review of a book. This is a review of a book and the book reads like this. This review, and the book, both read like the ocean. They read like the swirls in an eddy. They read like the overlapping waves.
The name of the book is The Second Elizabeth. This book is experimental fiction. This book tells a story like the ocean. It swirls in the eddy and sweeps angst from the sea floor. It stuns with its overlapping waves.
We meet a girl named Elizabeth who meets a girl named Elizabeth. They work with Reuben sandwiches. They both have sordid trauma. They both have scary drama. Scary stories, like drowning in the ocean.
We get swept up, drowning in their oceans. We get struck in the head with crass driftwood, we get awestruck by multicolored lines.
The book is not linear, it has 22 dimensions. The book is not a story, it is M.C. Escher's staircase.
I was expecting a book that was linear. I was expecting a 1, 2, 3 read.
At first it made me mad. Not mad but annoyed, like the first time I read Shakespeare or my first bout with Clockwork Orange. It was hard for me to follow. Shakespeare made me cry.
But then I embraced it. I got subtle jokes in Hamlet. I stored the glossary in Clockwork Orange. All three books were strange and foreign but then soothed me like the ocean. If you let their fine waves just sweep you, you will enjoy the ride.