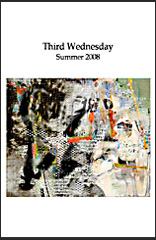 Writers markup their calendars with the every-other-Thursday Open Mics, recurring Poetry Readings, the Monday Night Writing Workshops, and Saturday Night crit clubs. The journal, Third Wednesday, was birthed by just such a self-organizing group. One could describe it as a journal for writers, by writers, as many of the selected poems have a meta-poetic slant.
The collection, as a whole, is reminiscent of the variety of work one might pick up in a weekly writer's group; an eclectic representation of experience, voices, viewpoints, and literary styles. With an unsteady editorial prerogative, there are duds within the group that underwhelm, but there are also breathtakingly sensitive meditations on mortality that make the entire collection worth reading. Beginning writers as well as experienced professionals will be pleased with what they find.
Featured in the current issue are the winners of the Third Wednesday poetry contest judged by Phil Dacey.
Copies may be purchased for $8, and work sent to:
Third Wednesday
174 Greenside Up\Ypsilanti, MI 48197